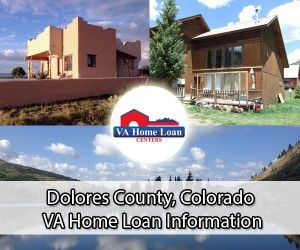 The 2018 $0 down, VA home loan limit for Dolores County is $453,100.
Dolores County is the seventh least populated county in Colorado. It has a population of 1,978 citizens, with a veteran population of 169. Dolores County is thought to have been inhabited by humans since 2,500 B.C. The County boasts a rich history of Native American ruins. Tribes said to have inhabited Dolores County include the Ute and Navajo Tribes. There are at least 816 archaeological sites located in Dolores County.
Gold was discovered in 1866 in Dolores County. The discovery of gold brought in miners from all over the country. Dolores County was officially created by the Colorado legislature on Feb. 19, 1881.
Dolores County offers a number of scenic trails and bicycle routes, including the Great Parks Bicycle Route and the Old Spanish Historic Trail. Dolores also has several nationally protected areas where visitors can enjoy the scenic views and the diversity of wildlife. Lizard Head Wilderness, the San Juan National Forest, and the Canyons of the Ancient National Monument are just a few of the sites that Dolores County has to offer.
Dolores County has a median household income of $37,750, with a median housing cost of $121,800. The state of Colorado offers property tax exemption for disabled veterans. For those that qualify, 50 percent of the first $200,000 in the actual value of their primary residence will be exempt.
---
Would you like to apply for a VA home loan?
To apply for a VA home loan, click here.
---
Dolores County Property Search
Military home loans are available for properties in Dolores County in the following areas:
Cahone, Dove Creek, Rico
Call VA Home Loan Centers at 888-573-4496 or use the chat feature for VA loan approved properties.
---
VA Loan Approved Condos
There are not currently any VA approved condos in Dolores County. For help with VA condo approval, click here.
---
VFW Post
The closest VFW post is located in Salida, Colo.
Post 3820 Angel of Mount Shavano Post
PO Box 1103
Salida, CO 812011103
United States
Phone: (719) 539-7487
Meeting Location & Time
140 W 3rd St
Salida, CO 81201
United States
7:00 PM 3rd Thursday
Quartermaster: Glenn Mallory
Commander: Michael Critchley
---
Maximum VA Appraisal Fees Allowable in Dolores County
Single Family: $575
Condominium: $575
Duplex Family: $600
Triplex Family: $625
Fourplex Family: $650
Repair Certification: $100
An additional fee of $50 is included in the above appraisals for the completion of the 1004MC form. This form is required for all VA appraisals, to include liquidation appraisals. For a VA loan application, contact VA Home Loan Centers.
---
Links for this page:
Colorado VA Loan Information: https://www.vahomeloancenters.org/colorado-va-home-loan-limits/
VA Loan Information by State: https://www.vahomeloancenters.org/va-loan-limit-maximum-va-loan-amount/