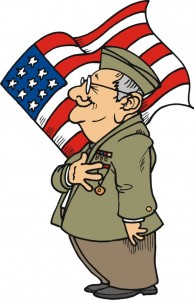 Because the Department of Veterans Affairs ensures VA home loans, investors are widely protected against loss if the borrower defaults on their mortgage. The guarantee allows for greater accessibility in comparison with conventional loans. Among the numerous rewards of the loan are reduced underwriting standards, no money down, no private mortgage requirements, the ability to pay off the loan early without pre-payment penalties, and limited closing costs; because of these advantages, as well as a multitude of others, the loan program has experienced a boom in popularity over recent years. Since the program was first rolled out under the umbrella of the original GI Bill, it has helped nearly 20 million veterans secure a mortgage. Over the past decade, the percentage of mortgages purchased through the aid of the VA home loan has increased from two percent to eight percent.
Because the American tax-payer fits the bill for all veteran entitlements, a VA Funding fee is required on all VA home loans by federal law. The funding fee is an upfront, one-time only payment that can be added to the total loan amount. The VA funding fee is intended so the borrower to contributes towards the cost of the benefit, which reduces the cost to taxpayers. Quite simply, the funding fee sustains the distribution of the loan program.
For first-time home buyers, the VA funding fee is 2.35 percent of the purchase price. For second-time users, it is 3.6 percent. The fee is higher for second-time users because veterans who already used it have had more time to gain equity and save money for a down payment.
If a down payment of 5 percent or more is made then, the funding fee is reduced.
Veterans who suffered an injury while in service are entitled to a funding fee exemption. To qualify for this exemption, a borrower must have a ten percent disability rating or higher or currently receive disability payments.
Beginning on January 1st 2020 several changes will be implemented to funding fees. Instead of paying 2.15% of the total loan, 2.35% will be owed. Funding fees will also be waived for Active Duty Purple Heart recipients. These funding fees will be implemented in hopes of offering disability benefits for Vietnam veterans and their children who have suffered health problems from Agent Orange exposure.
The VA funding fee can be either financed or paid for by cash. If it's being financed, then the fee is just added on top of the purchase price making it easier for veterans to get approved for a VA Home Loan.
Want to know more?