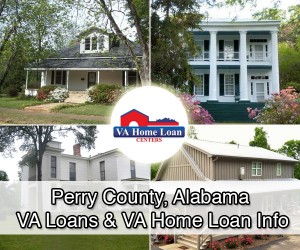 2021 $0 down, VA home loan limit for Perry County is $548,250.
Perry County is located in central Alabama. The county was formed in 1819.
Places to visit in Perry County include the Alabama Women's Hall of Fame and the Talladega National Forest. Other attractions are the Uniontown Historic District, the West Marion Historic Ditrict, and the Fairhope Plantation.
The county has a population of 10,020 (est.) people and about 714 veterans live there.
The median household income is $31,008 and the median household value is $63,500.
---
Maximum VA Appraisal Fees Allowable in Perry County
Single Family: $425
Condominium: $425
Manufactured Home: $425
Duplex Family: $575
Triplex Family: $550
Fourplex Family: $600
Repair Certification: $100
---
Your Dream Home is Waiting
Contact VA Home Loan Centers to be matched with a licensed real estate agent.
---
VA Home Property Search
Marion, Uniontown, Adler, Augustin, Cleveland Mills, Coleman, Cunningham, Ellards, Folsom, Hamburg, Heiberger, Hillcrest, Jericho, Levert, Morgan Springs, Nave, Norman, Oakmulgee, Osborn, Panhandle, Perryville, Radford, Sprott, Suttle, Tayloe, Vaiden, Vilula, Zimmerman
To request a complete list of homes on sale in Perry County, California, call 888-573-4496.
---
VFW Post
Post 5104 Hughes-Mc Collum Post
126 Lewis Rd
Marion, AL 36756-6413
United States
Phone: (334) 412 2013
Meeting Location & Time
Hwy 5 & 14
Marion, AL 36756
United States
8:00 AM Last Thursday
Quartermaster: Willard Nichols
Commander: Willis Hansen
---
VA Approved Condos
If you would like the VA to approve a condo, click here. There are currently no VA approved condos in Perry County.
---
Links for this county: