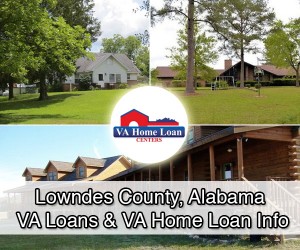 2021 $0 down, VA home loan limit for Lowndes County is $548,250.
Lowndes County is located in southern Alabama.
The population is about 10,703 and about 724 veterans live there. The median household income is $28,023 and the median home value is $70,200.
Places to visit include the Lowndesboro Historic Distric, the James Spullock Williamson House, and the Calhoun School Principal's House of the Calhoun Colored School, all listed on the National Register of Historic Places.
Your Dream Home is Waiting
Contact VA Home Loan Centers to be matched with a licensed real estate agent.
---
Maximum VA Appraisal Fees Allowable in Lowndes County
Single Family: $425
Condominium: $425
Manufactured Home: $425
Duplex Family: $575
Triplex Family: $550
Fourplex Family: $600
Repair Certification: $100
---
VA Home Property Search in Lowndes County
Benton, Fort Deposit, Gordonville, Hayneville, Lowndesboro, Mosses, White Hall, Burkville, Letohatchee, Mount Willing, Sandy Ridge
This property search is being worked on. Call 888-573-4496 to request a list of VA homes approved by the VA for sale.
---
VFW Post
There are no VFW Posts in Lowndes County. The closest VFW Post to Lowndes County is in neighboring Montgomery and Autauga counties:
Post 1349 Tri-County Memorial Post
PO Box 681244
Prattville, AL 36068
United States
Phone: (334) 365-0060
Meeting Location & Time
1077 E Memorial Dr
Prattville, AL 36068
United States
7:00 PM 3rd Wednesday
Quartermaster: Russel Brown
Commander: Janice Harris
---
Post 4176 Arthur W. Ansley Post
P.O. Box 230262
Montgomery, AL 361230262
United States
Phone: (334) 313-1543
Meeting Location & Time
500 E South Blvd
Suite 100
Montgomery, AL 36116
United States
4:00 PM 4th Sunday
Quartermaster: Terry Fetzer
Commander: James Dotherow
---
VA Approved Condos
There are no VA approved condos in Lowndes County at this time. Click here if you would like to get a condo approved in this county.
---
Links for this page: