2021 $0 down, VA home loan limit for Lauderdale County is $548,250.
About Lauderdale County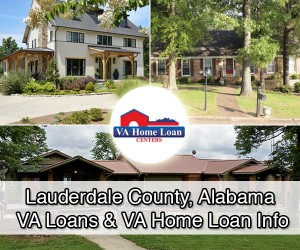 The county is located in the northernmost part of the state, bordering Tennessee.
The Lauderdale County Veterans Service Office is located in Florence.
There are National Guard locations in Sheffield and Florence.
Places to visit include the Joe Wheeler State Park, the North Alabama Birding Trail, the Natchez Trace Parkway, and the Shoal Creek Preserve Tract.
Median household income: $40, 701
Median household price: $111,900
Population: 92,797
Veteran population: 7,277
---
VA Homes Property Search
Anderson, Florence, Killen, Lexington, Rogersville, St. Florian, Waterloo, Cloverdale, Green Hill, Oakland, Stewartville, Threet, Zip City
---
VA Approved Condos in Lauderdale County
There are currently no approved condos in this county. If you would like to get one approved, click here.
---
Maximum VA Appraisal Fees Allowable in Lauderdale County
Single Family: $425
Condominium: $425
Manufactured Home: $425
Duplex Family: $575
Triplex Family: $550
Fourplex Family: $600
Repair Certification: $100
---
VFW Post
Post 5140 Florence Post
PO Box 1524
Florence, AL 35631-1524
United States
Phone: (256) 757-5348
Meeting Location & Time
127 S Royal Ave
Florence, AL 35630
United States
6:30 PM 3rd Tuesday
Quartermaster: Dave Smith
Commander: Theodore Youwer
Find Your Dream Home
Contact VA Home Loan Centers to be matched with a licensed real estate agent.
---
Links for this page: