2021 $0 down, VA home loan limit for Calhoun County is $548,250.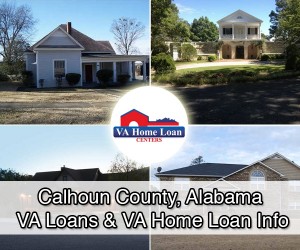 Population: 116,736 (est.)
Veteran population: 11,636
Median household income: $40,093
Median household price: $101,900
Some places to visit in Calhoun County, Alabama include the Coldwater Covered Bridge, the Anniston Museum of Natural History, and the Berman Museum of World History. If you like the outdoors, a part of the Talladega National Forest is in Calhoun County.
Calhoun County, located in the northeastern section of the state, was formed in 1832. Originally named Benton County, the area was named after former U.S. Senator Thomas Hart Benton.
Fort McClellan was located in Anniston until it closed in 1999. The county also has an Army National Guard office in Oxford and a U.S. Army Reserve Center in Anniston.
---
Find Your Perfect Home Today
VA Home Loan Centers can match you with a licensed real estate agent today.
---
VA Approved Condos
There are no approved condos in Calhoun County. If you find a condo you would like the VA to approve, click here.
---
Calhoun County VA Homes Property Search
Anniston, Glencoe, Hobson City, Jacksonville, Ohatchee, Oxford, Piedmont, Southside, Weaver, Alexandria, Blue Mountain, Bynum, Choccolocco, Eastaboga, Pleasant Valley, Minden, Saks, Weaver, Webster's Chapel, Wellborn, Wellington, West End-Cobb Town, Chosea Springs, Iron City
---
VFW Post
Post 924 George N. Meredith Post
PO Box 4310
Anniston, AL 36204-4310
Phone: (256) 238-8047
Meeting Location & Time
1019 South Noble Street
Anniston, AL 36206-2114
1 PM 3rd Saturday of each Month
Quartermaster: Charlotte Underwood
Commander: William Chauncey
---
Maximum VA Appraisal Fees Allowable in Calhoun County
Single Family: $425
Condominium: $425
Manufactured Home: $425
Duplex Family: $575
Triplex Family: $550
Fourplex Family: $600
Repair Certification: $100
---
Links for this page: