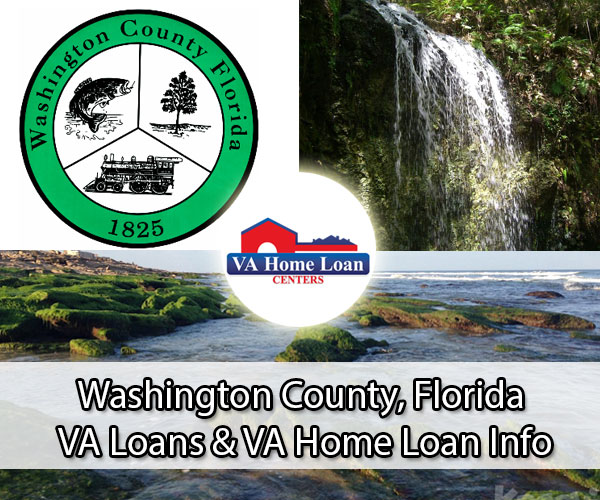 2021 $0 down, VA home loan limit for Washington County is $548,250.
Located in the center of the Florida Panhandle, Washington County spreads across 583 square miles of land and 33 square miles of water. The County includes the incorporated communities of Vernon, Caryville, Wausau, Ebro, and the largest city Chipley; and the unincorporated communities of Sunny Hills, Poplar Head, New Hope, Hinson's Crossroads, Crow, Five Points, Gilberts Mill, and Greenhead. Residents of the county have easy entry to the cities of Pensacola and Tallahassee on the I-10 and Panama City and nearby Alabama on the 231. The total population of Washington County is 24,935.
Washington County is made up of scenic wilderness and beautiful wildlife. The mixed hardwood forests, rolling hills and pine trees create a backdrop as serene as it is expansive. Residents are privileged with outdoor activities that allow for horseback riding, ATV usage, motorcycling, biking, golfing, canoeing, camping, hunting and fishing. The non-profit Seacrest Wolf Preserve and The Great Florida Birding Trail provide outsiders with a fascinating look into the natural world of different species.
Known as a festive county, the local community puts on multiple festivals throughout the year, with the Choctawhatchee Catfish Round-Up, Wausau Fun Day and Possum Festival and Veteran's Day Powwow the centerpieces. Three Oaks Winery is a good change of pace for residents looking for more adult themed fun. The winery has been creating wine for more than two decades, espousing the values of patience and care.
Originally established in 1825, Washington County at its inception was almost double the size of Delaware. Influenced by Spanish, English and Native Americans who once occupied it, the county is famous for Andrew Jackson themed folklore. Named after President George Washington, the County experienced a population boom associated with a boosted nineteenth-century timber and mineral-based economy. The expanse of the railroad brought further growth, with the modern boundaries being established in 1927 with the establishment of Chipley as the county seat.
Washington County is a partially dry county, meaning the sale of alcohol is restricted. Chipley prohibits the sale on Sundays, although Wausau, Ebro, and Vernon are not included in this ordinance.
To apply for a VA Home Loan in Washington County, follow this link!
---
Veterans in Washington County
Washington County is home to one of the smallest veteran populations in the state of Florida. Less than 3,000 former military members make their primary residence in Washington County.  The Veterans Service Office of Washington County acts as an advocate for the local populous of veterans. The office assists in determining eligibility, and filling benefits claims. The Veterans Service Office helps with the following benefits; service-connected disability, non-service connected disability pension, healthcare enrollment, burial benefits, and educational benefits. Additionally, the Office acts a referral service to other VA facilities, including local VA Medical Centers.
Disabled veteran homeowners in Washington County qualify for a property tax exemption of $5,000 if they have a disability rating of ten percent or higher. Veterans, who suffer from a total disability, are entitled to a complete exemption.
---
Maximum VA Appraisal Fees Allowable In Washington County:
Single Family: $425
Condominium: $425
Manufactured Housing: $425
Duplex $500
Triplex: $550
Fourplex: $600
Repair Certification: $100
---
Washington County Property Search
Chipley, Vernon, Caryville, Ebro, Wausau, Crow, Five Points, Gilberts Mill, Greenhead, Hinson's Crossroads, New Hope, Poplar Head, Sunny Hills
Call VA Home Loan Centers at 888-573-4496 for a complete listing of all VA approved condos.
---
Washington County VA Approved Condos
Currently, there are no VA approved condos in  Washington County.
To speak with a representative for assistance with a condo approval project; contact VA Home Loan Centers at 888-573-4496.  
---
Links
Florida VA Loan Information: https://www.vahomeloancenters.org/florida-va-home-loan-limits/
VA Loan Information by State: https://www.vahomeloancenters.org/va-loan-limit-maximum-va-loan-amount/