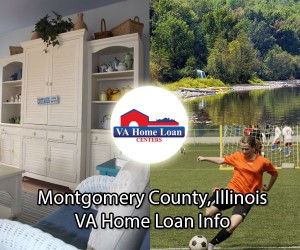 2021 $0 down, VA home loan limit for Montgomery County is $548,250.
Created from portions of Madison and Bond Counties, Montgomery County was officially created in 1821. The county was named after Richard Montgomery, who was a general in the Revolutionary War. Nestled in the beautiful Illinois landscape, Montgomery County has many places to enjoy the outdoors. The county is perfect for those with children thanks to its rich history and a strong school system. The community hosts many festivals throughout the year that prove excellent food and exciting entertainment. The total population of the county is 29,359, including a veteran population of 2,871.
If you are either a sports lover or player, then you will enjoy the many sports facilities in Montgomery County. The local Sports Complex provides facilities for tennis, racquetball, basketball, and more. The Sports Complex also hosts local games, so be sure to come by and cheer on your team! If you are an avid golfer, then you will find several options in the county. The Shoal Creek Golf Course features golf cart rentals, a pro shop, and an 18-hole course. Other golf courses in Montgomery County include the Hillsboro County Club and the Indian Springs Golf Course.
Those who love the outdoors will enjoy the many opportunities for activities in Montgomery County. Come to Glenn Shoals Lake for a nice swim or boat ride. Be sure to bring your fishing pole and take advantage of the many species living in Glenn Shoals, including largemouth bass, catfish, and tiger muskie. There are several great places to go camping, including the Sherwood Forest Campground. Sherwood Forest Campground has 200 electrical hookups and 75 campsites with no electricity for the primitive experience. There are also restrooms and a bathing site in the Sherwood Forest Campground.
Have some of the most fun you've ever had at one of the events held in Montgomery County. The Montgomery County Fair features excellent food, games for children, and live entertainment! The Fair also hosts a beauty contest and a demolition derby. Don't miss out on the Summer Concert Series to see talented local music acts and famous musicians from all over the country. Other annual events in Montgomery County include the Open Car Show, the Old Settlers Downtown Celebration, and the Downtown Christmas Celebration.
Be sure to check out all the interesting historical landmarks in Montgomery County. The Ariston Café in Litchfield has been standing since 1924. The café is the longest-running restaurant located along U.S. Route 66, and is still in operation! Other historical sites in the county include the George Blackman House, the Litchfield Public Library, and the Manske-Niemann Farm.
The Veterans Assistance Commission is an excellent resource for veterans living in Montgomery County. Benefits offered to veterans living in Illinois include healthcare, employment assistance, and property tax exemption eligibility. The median housing cost in Montgomery County is $79,500, and the median household income is $41,982.
---
Find the Perfect Home in Montgomery County
If you would like to be matched with a licensed real estate agent, contact VA Home Loan Centers today.
---
Montgomery County Property Search
Coffeen, Hillsboro, Litchfield, Nokomis, Witt, Butler, Coalton, Donnellson, Farmersville, Fillmore, Harvel, Irving, Ohlman, Panama, Raymond, Schram City, Taylor Springs, Waggoner, Walshville, Wenonah, Chapman, Honey Bend, Kortcamp, Van Burensburg, Zanesville, Zenobia
62689, 62080, 62560, 62083, 62690, 62262, 62009, 62086, 62089, 62088, 62572, 62091, 62015, 62093, 62014, 62017, 62094, 62019, 62033, 62032, 62640, 62049, 62533, 62051, 62538, 62056, 62875, 62667, 78244, 62546, 62069, 62672, 62075, 62074, 62553, 62077, 62076, 62558, 62557
For help finding a VA-approved home or condo, contact VA Home Loan Centers.
---
Montgomery County Condo Search
There are not currently any VA-approved condos located in Montgomery County. VA Home Loan Centers can help you obtain condo approval on almost any condo.
---
VFW Posts
Post 1306 Kershaw-Harmer Post
PO Box 276
Taylor Springs, IL 62089
United States
Phone: (217) 532-3241
Meeting Location & Time
8354S Route 127
Taylor Springs, IL 62089
United States
7:00 PM 1st Wednesday
Quartermaster: N/A
Commander: Kenneth Marsh
---
Post 6628 Panama Post
PO Box 850
Panama, IL 62077-0850
United States
Phone: (217) 537-3230
Meeting Location & Time
329 Main St
Panama, IL 62077
United States
7:30 PM 3rd Wednesday
Quartermaster: Eugene McCario
Commander: Michael McCario
---
Post 3912 Litchfield Post
PO Box 66
Litchfield, IL 62056
United States
Phone: (217) 324-4566
Meeting Location & Time
215 W Ryder St
Litchfield, IL 62056
United States
7:30 PM 2nd Thursday
Quartermaster: Michael Houlihan
Commander: Ray Kellenberger
---
Maximum VA Appraisal Fees Allowable in Montgomery County
Single Family: $420
Multi Family: $550
Individual Condo: $425
Manufactured: $425
Repair Inspection: $100
---
Links
Illinois VA Loan Information: https://www.vahomeloancenters.org/illinois-va-home-loan-limit/
VA Loan Information by State: https://www.vahomeloancenters.org/va-loan-limit-maximum-va-loan-amount/