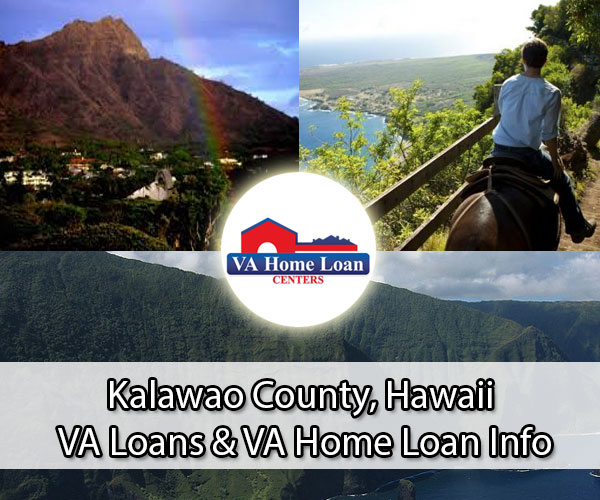 2021 $0 down, VA home loan limit for Kalawao County is $822,375.
Located on the Makanalua Peninsula on the northern coast of the island of Moloka'i, Kalawao County is a separate entity from Maui County, which contains the majority of Moloka'i. Covering a total area of 53 square miles, the only community in the county is Kalaupapa. The population of 90 makes the county the second smallest by population in the entire country. The only county smaller is Loving County Texas. Originally a Fishing settlement with as many as 1,200 residents, Kalaupapa became the site of a forced leper colony. In the 1860', those suffering from leprosy were exiled to Kalawao County. Enacted by King Kamehameha V, the law, which called for the isolation of individuals in Kalawao, remained in effect until 1969. Today most of the residents of Kalaupapa are people formerly isolated on the peninsula or their family members. The County and leper colony were the subjects of the 1999 film Molokai.
Kalawao County has no local government. The administration of the county is under the jurisdiction of the Hawaii Department of Health. Under state law, the Director of the Department of Health, who is appointed by the Governor, serves as the Mayor of Kalawao County. The government of Maui County also functions in a supervisory capacity for Kalawao County.
---
Your Dream Home is Waiting
Contact VA Home Loan Centers to be matched with a licensed real estate agent.
---
Veterans in Kalawao County
Kalawao County is home to approximately four veterans. Because of the tiny population no veteran services are available in Kalawao. However, these veterans can take advantage of what is offered in neighboring Maui County.
---
Maximum VA Appraisal Fees Allowable In Kalawao County:
Single Family: $650
Condominium: $650
Manufactured Housing: $650
Duplex $1,000
Triplex: $1,100
Fourplex: $1,200
Repair Certification: $200
---
Kalawao County Property Search
The VA HLC property search can be used for the following areas:
Kalaupapa
To obtain a complete listing of all VA approved condos in Kalawao County, contact VA Home Loan Centers at 888-573-4496.
---
Kalawao County VA Approved Condos
Currently no VA approved condos are available in Kalawao County.
VA Home Loan Centers can provide immediate assistance with a condo approval project. Speak with a representative by calling VAHLC at 888-573-4496.
---
Links
Hawaii VA Loan Information: https://www.vahomeloancenters.org/hawaii-va-home-loan-limit/
VA Loan Information by State: https://www.vahomeloancenters.org/va-loan-limit-maximum-va-loan-amount/