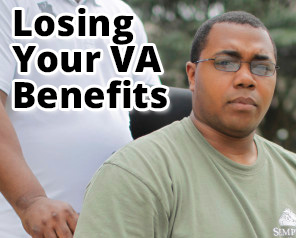 Veterans could lose their VA benefits for two reasons: Incarceration and multiple foreclosures.
For incarcerated veterans, a reduction or loss of benefits is determined by the crime committed and the resulting prison sentence E.G. whether the offense was a felony or misdemeanor. Benefits commonly affected by a prison sentence include educational as well as disability entitlements.
Veterans who have more than one foreclosure will lose their VA home loan benefit, though this entitlement can be regained.
---
Multiple Foreclosure on a VA Loan
Foreclosure on a home occurs when the borrower cannot pay back the loan taken out to purchase the property.
Although the VA home loan is a benefit that can be used any number of times, foreclosing for a second time will result in the loss of the VA home loan benefit. Because the VA guarantees their loans, a foreclosure on a VA home loan causes the government to lose money when the borrower stops making payments.The government will not issue a future loan to someone with an unpaid balance and two foreclosures. Note that one foreclosure is not grounds for a loss of benefit. In fact, if you have foreclosed on a VA loan, you can apply for a second VA loan.
For veterans who have foreclosed twice, the good news is that losing this benefit isn't necessarily permanent. Once the loss has been paid back in full, the borrower is again eligible for the VA loan.
Even if you lack equity, selling a home is a much more desirable outcome for a homeowner than foreclosure because it will appear on a credit report as a settlement.
Remember, VA Home Loan Centers provides assistance at no charge out of pocket to upside down veterans and active duty service members. You may be able to use the VA loan benefit again in the future to purchase a home.
IMPORTANT NOTICE:
If you choose to have VA Home Loan Centers represent you in selling your home as a short sale, you can stop using our services at any time. VA Home Loan Centers charges no up-front fees to assist you with your short sale. Our partner real estate brokerages will charge a real estate commission but if the bank agrees to a short sale, this is paid for by your lender. VA Home Loan Centers is not associated with the government, and our service is not approved by the government or your lender. Even if you accept this offer and use our service, your lender may not agree to change the terms of your mortgage including approving your short sale. It is recommended that you continue to make payments on your mortgage throughout the process. Should you default on your payments, you can see a negative impact to your credit report and your home could be foreclosed upon.
---
Educational Benefits
Veterans currently imprisoned are still eligible to receive their education benefit, though the benefit is restricted if the crime committed resulted in a felony conviction. Those serving time on misdemeanors, who wish to pursue an education, are entitled to have the entirety of the costs accrued covered by the VA.
Inmates serving felony convictions may still receive financial aid for the purpose of education from the VA. Though, these costs are restricted to "tuition fees and necessary books, equipment and supplies."
According to the U.S. Department of Veteran Affairs, the VA will not pay any educational benefits if there is another program that is paying educational fees in full at that time. However, if another government program is paying for a half of your education fees, the VA will pay the other half, or whatever the remaining fees total.
---
Disability Benefits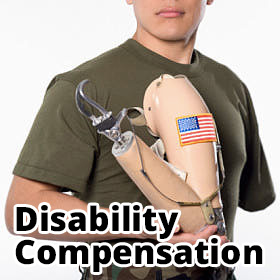 Imprisonment for a felony will result in the reduction of disability benefits following the 60th day of time served. On the 61st day, the inmates' disability rate will drop to 10 percent if it was previously above 20 percent. If the rate was 10 percent it will be reduced to half of that. Following a release from prison, the compensation may be collected in full again, depending on the individuals level of disability.
For a misdemeanor, compensation benefits will remain the same.
Unlike disability compensation, disability pension will be lost completely regardless of the crime committed and the accompanying sentence. Payments will stop on the 61st day of incarceration. These payments may be collected again following a release from prison, but only if all VA eligibility requirements are again met.
---
Dependents Receiving the Benefits
An inmate who is not receiving their benefits in prison can opt to have the payments sent to their spouse, children, or parents if they are dependents of the inmate. Whoever is to receive the benefit payments, must apply to get the money from the VA, because it will not be sent automatically.
---
Reinstating Benefits
Benefits and compensation can be resumed on the date the inmate is released from prison. For this to happen, the Department of Veterans Affairs must be notified of the scheduled release date within one year of it. Furthermore, this release date must be confirmed with the VA 30 days from release.